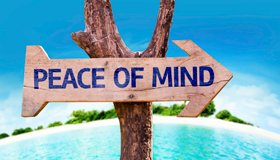 An earthquake can be a catastrophic and financially devastating occurrence to a homeowner. Although they are a real danger, earthquakes are typically not covered by a homeowner's policy.
It is sometimes hard to see past the large deductibles associated with earthquake insurance, and insured's wonder if it is worth the cost.
What do earthquake policies cover?
Comprehensive Policy: offers blanket protection for your dwelling, other structures, personal property, and additional living expenses up to one year. This policy also covers engineering and demolition costs, building code upgrades, loss assessment, and debris removal. 10% and 15% deductibles available.
Standard Policy: is designed to provide protection for the dwelling, with limited coverage for your personal possessions and additional living expenses. 10% and 15% deductibles available.
Make sure your largest financial asset is protected.
*Additional special coverage options are available. Please consult us for a complete list of coverage options.
This overview is a general coverage description only and is not a policy contract. Specific provisions of your policy, determine if a particular loss is covered, and for what amount.