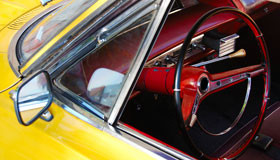 By insuring your classic, antique or collector vehicle on a separate policy, we can provide better coverage at a significantly lower rate, than daily driver policies. This being said, Classic and antique vehicles are meant to be driven. Whether you are going to an auto show, or just taking it out for a cruise, let us help you protect your investment.
Some of the coverage features are:
Guaranteed Value (agreed value): We agree on a value, and in the event of a covered total loss, the client is paid that full amount-less any deductible or salvage value, if retained.
A Broad Range of Vehicles: including classics, modified cars, vintage racecars, motorcycles, boats, pickups, and more.
Freedom: to enjoy your vehicle to allow for pleasure and hobby-related usage with no fixed mileage limits.
Other options and features:
Traveling Collector coverage
Vehicle under Construction coverage
Automobilia
Automotive tools
Spare Parts ($750 at no extra cost)
Special coverage for restoration projects
Trip interruption coverage
Roadside Assistance
*Additional special coverage options are available. Please consult us for a complete list of coverage options.
This overview is a general coverage description only and is not a policy contract. Specific provisions of your policy, determine if a particular loss is covered, and for what amount.